The project is coordinated by the Centre for European Constitutional Law (www.cecl.gr). The CECL is a public benefit institution and research centre, founded in July 1995 and based in Athens. The Centre's objective is to contribute to the development of democratic institutions and the welfare state under the rule of law and to strengthen international cooperation with respect for the cultural identity of each state. Three specialised units operate within the structure of the Centre: Unit for Better Regulation; Educational Policy Unit and Social Policy Unit.
The Centre has implemented institutional and capacity building projects in more than 25 countries, mainly in the areas of judicial reform, human rights and administrative reform; it is the national focal point for the European Network of Fundamental Rights (FRANET) of the European Union Agency on Fundamental Rights-FRA; it participates in the activities of international organisations with Observer Status; it coordinates the "Constitution-Making and Constitutional Change Research Group" of the International Association of Constitutional Law and operates the blog http://constitutional-change.com/ and it is ISO 9001:2008 certified for the services it offers.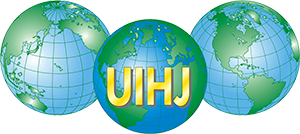 The UIHJ is the International Union of Judicial Officers (https://www.uihj.com/). It promotes the organisation of the profession of judicial officials responsible for enforcing judgments in different countries all over the world.
Over 89 countries (through their respective associations or national chambers of judicial officers) are member of the UIHJ, resulting in a multi-faceted organisation that includes judicial experts that operate their legal profession in private practice (e.g. France, Belgium, the Netherlands), actors in public office (e.g. Germany, Brazil, and Georgia), and civil servants placed under the authority of the judge (e.g. Spain, Cuba, Austria).
UIHJ has a strong international profile and has implemented numerous projects on enhancing judicial reform, strengthening public and private enforcement organisations, and enhancing the professional conduct of enforcement agents by developing and delivering education and vocational trainings on enforcement law, commercial law, private international law, and recent European and international jurisprudence. UIHJ has an observer status within the UN Social and Economic Committee and Uncitral.
Within Europe UIHJ was a founding member of the European Law Institute and has an observer status within the Council of Europe's Commission for the Efficiency of Justice. As such UIHJ also actively participated in the drafting of the CEPEJ 2009 Guidelines on enforcement. Nowadays these Guidelines are used as an international standard on enforcement and used by the European Commission as a reference for the assessment of the enforcement systems of potential EU member states. UIHJ experts have been actively involved in the various reforms of the enforcement systems in Europe, Africa and Asia, including the drafting of new enforcement legislation, and the development and delivery of training modules to strengthen the professional competences and skills of enforcement agents.